Understand the Process behind On-Site or In-Home Moves
Published on Tuesday, 29 May 2012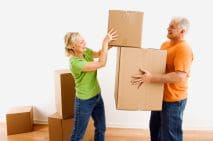 Are you on the lookout for removals services? Whether you need to transfer your office or residence from one address to another, it is important to get in touch with a professional removals company. Read on to find out what these companies can help you with, as well as the difference between traditional removals businesses and on-site movers.
A Glimpse at the Services Offered by Traditional Removals Companies
Now, what are the services offered by traditional removals companies? As the name implies, these are companies which have a fleet of moving vans or trucks as well as a manpower of movers. They help clients transfer all their belongings from point A to point B.
Depending on the moving package that you will take advantage of, there are a couple of arrangements possible. First, you can hire the company to simply move the boxes from your old address to your new house if you wish to pack and unpack everything yourself. Second, you can hire all-in-one removals companies which offer professional packing and unpacking services.
No matter which of these two options you end up choosing, it is important to do your research so that you can hire a reliable removals company. Your other option is to hire man-and-van services. These are similar to traditional moving companies, but they only handle small to medium-scale moving projects due to their limitations in moving vehicles and manpower.
How about On-Site or In-Home Moves?
Another option for those who find the need to move is to go for on-site or in-home moves. Unlike traditional removals services, on-site or in-home movers allow items to be moved but not into or out of a truck. For example, if you will not move to a different address but you are in the process of renovating the rooms in your house. You can hire on-site or in-home movers. These businesses will send the manpower needed to move heavy furniture around while you are in the process of renovating your home.
Other instances when on-site or in-home moves prove to be useful are:
- During home staging where you need to sell your house and move into a new home. For this, furniture pieces need to be kept out of the way to reduce clutter.
- During a move from one apartment complex to another, but within the same building.
- During the addition of a wing or room within your home, where heavy furniture pieces need to be lifted and moved.
- During home improvement projects when repairs need to be made; junk has to be removed from the home; or when businesses are moving within the same commercial complex.
As you can see, there is absolutely no need for you to do the heavy lifting yourself. Whether you are planning an interstate, in-state or even a within-the-same-building move, you can hire the right people to help you out. With these professional movers, you can turn a move experience into something that's not so stressful and hassle-free.
MORE NEWS AND TIPS