What Service do Removal Companies Offer?
Published on Friday, 08 November 2013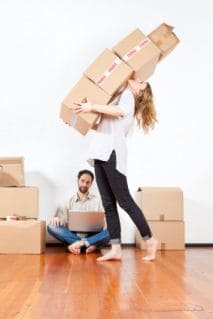 If you are currently moving house, you may be thinking about removal companies and what kind of help you should hire. Removal companies not only hire you transit for moving your goods, but many offer other services too. These other services could very beneficial in helping your home removals go as efficiently smooth as possible!Let's discover what services removal companies offer and whether or not we should hire it! Man and vanMan and van is the most obvious service offered. You have the option to hire a man and van to help with your removals and costs of this service varies depending on what time of day, what day of the week it is and how long they are needed for. You could go for the self-drive van option where you only hire the van, but you will have to drive it yourself and you won't be getting help to load or un-load it. Man and extra assistants to help with moveMany people choose to hire a van and a couple of men to do the lifting and loading, this is great if you are on your own or do not have the help that is needed to do all of the lifting. Of course there are extra costs for hiring a second helper; however it's not much greater than it would be for only one man and more often than not, the benefits of doing so far outweighs the slightly higher charges. Hiring a second helper can also reduce the amount of time it takes to move because you have two men doing all the loading and unloading and not to mention the heavy lifting, so it tends to get done much quicker! Packing and packagingYou can opt for their packing services, if it's available! Packing services are very beneficial for those who don't have time to collect and find the packaging yourself and for those who simply don't know where to find these packing materials. Packing is needed for most removals, so it makes sense to just get the job done all in one go because this should help the whole process run more smoothly and also the packaging you buy for removals is specially designed for household goods and is the best you can get to help protect you goods.Insurance, One of the benefits of using a packing service is the insurance that you get with it. As long as you allow the removal company to actually do the packing for you, you should be covered for any damage, should the inevitable happen within their services. Eco- friendly which takes away empty packing and reduces carbon emissionsMost people these days are going down the 'Green' route and you can see why, its often more cost effective and since a lot of packaging is involved within a house move, it only makes sense to use recycled packaging instead! Not only that, most Eco-friendly removals will actually take away all of the used packing afterwards, so you don't have to bother doing it, and you know it's going back to the recycled plant too-bonus! Free no obligation quote for packing requiredMost removal companies, who offer the packing service along with it, will offer a free no-obligation quote for the packing required! This usually involves a survey of the property to estimate how much packing is required for the job and then you are giving a free no obligation quote to decide if you would like to hire or not. Whether you intend on hiring the packing service or not, you may want to get this quote anyway because at least you will have a good idea of how much it's going to cost you to buy it independently.
MORE NEWS AND TIPS