What To Do When Moving with Your Children
Published on Thursday, 24 September 2009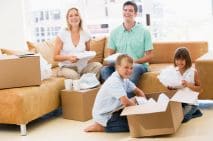 When moving, you need to consider your children's welfare. If you don't think about your children, it may cause unfavorable circumstances that are sometimes irreversible.
So, the first thing to do is to inform your children about the move. The least thing they want is to get surprised on the day of moving. Moving becomes also huge part of their life because they will also be adjusting to your new home, a new school, and a new community to live in.
If your children are old enough to help, you can even request for their help which most of time they would gladly provide to you. But if you don't, they will feel otherwise because it is as if you are isolating them from something that they should be part of.
On the moving day, even if you feel tired, don't let it reflect on your face. You need to be optimistic about the move so that your children will feel the same way. It is easier for children to get influenced with a positive attitude especially from their parents.
And when you finally moved, let your children be familiar with their new environment by encouraging them to make new friends. This way they will not become indifferent toward other people in your new neighborhood.
MORE NEWS AND TIPS