What to Look for before Buying a New Home
Published on Friday, 16 November 2012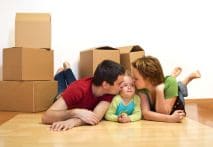 When you find a new house you really like, it is easy to get carried away, agreeing to buying it before you've properly thought it through. Moving home is a stressful and eventful time, so you need to be sure that the home you are buying is worth it.
When you go to view a new house it's easy to get carried away by how much you like it, but here are some important things to ask:
• How many viewings/offers has it had?
• How long has it been on the market?
• Why is it on the market?
• What's included in the sale? Oven? Fridge? For example
• Is there any parking issues with the neighbours?
• Have there been any subsidence problems?
• What's the council tax band?
This is a starting point, however, there is so much more you need to know about the property you are going to buy before rushing in. Here are some things to consider before putting in an offer:
• Research the neighbourhood: look at recent newspaper's from the local area to get an idea as to what it is like. Research crime rates, this can generally be found from the area's police station.
• Visit the property at different times of the day, go inside and walk around the property. There could be an annoying bright street light, or a particularly busy road you hadn't noticed before.
• Ask for utility bills to give you an idea as to how much more or less you would need to pay for gas, water and electricity if you were to buy the property. Look at how much the council tax on the property is a year and how this varies from what you're paying now.
• Look at the view, from your window, your garden, the conservatory, etc. make sure there is nothing blocking your light, no neighbours are building something that could potentially ruin your view etc.
• Tour the surrounding area, not just the estate the property is in. Look at the local shopping areas, find out where the doctors and dentist are based, where the closest hospital is etc. Are they far from the property, or in not so pleasant areas?
• Talk to the neighbours, find out what they are like, ask them what the area is like to live in, are the people friendly and is there ever any trouble. Find out if they have a neighbourhood watch scheme.
• Talk to the sellers and ask more questions about the house, try to find out about any damage there has been to the property and how and when it was fixed. When a seller tells you something like "the front of the house was painted 2 years ago", ask who it was by, how much it costs, what paints were used, to ascertain how quickly it will deteriorate and need re-doing.
• If you look at the property and intend on doing some re-modelling, it is an idea to check first that you actually are going to be able too. Some properties are restricted on the work that can be carried out on them.
• Check with your car insurance to see if the address would mean an increase in your payments.
• Quality of local schools increase property prices, check the area and the schools nearby.
MORE NEWS AND TIPS