What You Must Have during a Move Out
Published on Tuesday, 13 September 2011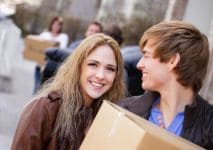 Moving out into a new house will cause you so many headaches and at times a lot of instances of forgetting more important things. This usually happens because you are very much pre occupied with a lot of things to think. In order not to be victimized by this, a checklist is required.
A good checklist is the one that has all the things that you need when you leave and all the things that you need to have when you arrive in the new house. Below are the things that need to be in the checklist:
a. Your important legal documents. These documents may be your land title, your car's original official receipt and car registration, your school related documents and a lot more. You need to make sure that you have all these important documents properly sealed in a single envelope.
b. Your personal belongings. The checklist must properly enumerate all the personal belongings that need to be in the luggage or in the moving out box. You need to make sure that from time to time the checklist is checked and is being updated so that new things that pop up in mind are properly listed.
The checklist is an important tool that movers must have. All you need to do is to have it properly made and checked.
MORE NEWS AND TIPS