When You Move With Your Children
Published on Monday, 19 October 2009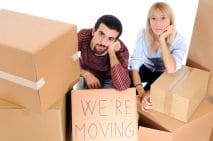 When you move house, you get your children involve. Such experience will also affect your children either in a good way or in a bad way. So, as parents, you need to make your moving process convenient, not just for your sake but for your children's well being, too.
Make your moving experience a happy event for your children. Let them feel that moving can be a great part of their life so they have to cope with it positively. Otherwise, it would be hard for them to accept what is going on in their life and would affect how they will perceive things in the future.
You need to communicate with them properly by telling them the huge difference and the main reason why you need to move house. Children are able to understand what's going on if you learn how to explain things to them optimistically. It would be nice if you also ask their opinion about the moving process and encourage them to share their views and speak their mind so that you will know how they feel about the moving process.
And when you are being asked by your children about why you need to move, be sure that you give them a simple and honest question because anything you will say to them will be remembered.
MORE NEWS AND TIPS