Which Items Need Special Consideration During House Removals?
Published on Thursday, 26 September 2013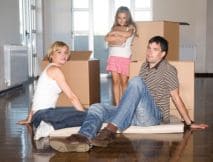 When you have decided to move home, the next logical step in thinking turns towards how you plan on moving. You may chose to use a removal firm, a man with a van or to even do it yourself. Whichever option you chose, you will be faced with challenge of packing away all of your things and transporting them to the new property. While many items, such as books, utensils, DVDs, can be seen as quite sturdy and fit to travel, other items in your possession may require additional attention. Below is a list of certain types of item which will require you to pay a little bit more notice to how they are being packed. While it may appear to be a tough and hardy appliance, moving a fridge can actually prove to be quite difficult. You will need to take care to defrost the fridge and to empty it out of all food and internal shelves before you move. Make sure that any wires and pipes are not connected and that there is no chance that the door might swing open during transit. Fridges do not like to be positioned in anything other than an upright manner, so pay close attention to the appliance when it is in the van and take care to make sure that it is correctly fastened and positioned. Glassware covers a great many items within the home. From the drinking glasses to the ornaments, right through to the mirrors you might own, everyone is well aware of the fragility of glass. Coupled with this, seven years bad luck for breaking a mirror is the last thing you will on moving day. The the time to wrap each piece individually and try to ensure that none of the delicate glass surface is showing. This surface, when coming into contact with other objects, could not only smash and scratch itself, but could do damage to other possessions as well. Similarly, crockery can be very susceptible to breaking during a move and is often not considered amongst the most precious of possessions. Be careful when packing your plates that not too much weight is placed upon them, or that they will not be victim to repeated blows. Electronic items can be amongst the most expensive in your home and as such will be difficult to replace should anything get damaged during the move. Stereos, televisions, video game consoles and DVD players are all high cost items which contain delicate parts. Keep a close eye on wires as well. The last thing you want is to begin to set up your television in your new home, only to find that you've left a vital wire behind. A large amount of bubble wrap and a touch more self awareness about which boxes contain electronics is a good start for keeping your electrical goods safe. Musical instruments may not be something found in everybody's home, but damage to a musical instrument can be a thoroughly demoralising event, as many hold a large amount of sentimental (as well as monetary) value. If you want to be extra careful with your instrument, then there are a large variety of professional standard cases designed to protect your precious instrument. While you can take great care to protect the items which might get damaged, it is also important to consider items which can cause damage. Any object which weighs a large amount or contains a sharp edge can cause potential damage during transit. Likewise, any items which can stain or melt, such as kitchen cleaning and gardening chemicals, are to be carefully considered to make sure that they do not damage other possessions.
MORE NEWS AND TIPS