Checklist When Moving Out
Published on Saturday, 09 October 2010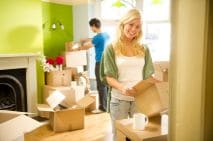 So you decided to start all over again in another place. You felt it is time to move on. You burned those pictures that you have cried on for weeks and the man behind it. But you just have so many things to carry to your new house. The reality is in front of you. You have tons of clothes, furniture, and other things which have just piled up. You even have bottles of milk there that were left untouched. You have to tell the milk man not to deliver milk any more. The newspaper guy also needs a call.
If you are faced with a similar situation, like you are moving out for any cause whatsoever, inform the people who are giving you services that you are transferring. This is to avoid paying for services that you no longer receive and out of courtesy also that you are stopping their services. Examples are the electric bill and the water bill. You should request disconnections from these companies or if it is unnecessary at least inform them that you are moving out for record purposes.
You should also inform your credit card company and your bank about the change in your address so that they can contact you and update your profile. This is to avoid problems on the future when it comes to your transactions. You must also label your moving boxes properly if they are fragile and what are their contents. This is to help your movers take care of your things. You must also give proper address to your movers and the time you are expecting them to avoid the hassles in transferring your things and unloading them.
MORE NEWS AND TIPS