Have a Hassle-Free, Organized Move by Following these Tips
Published on Wednesday, 07 September 2011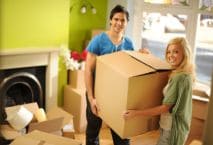 If there's one experience that not a lot of homeowners are looking forward to, it's none other than moving. Although the concept of starting afresh in a new location is exciting, it is the act of packing your things, dealing with the movers and organizing after the move which prove to be quite a daunting task.
Even if you have zero experience with moving, you can still prevent the process from turning into a complete nightmare by following these tips:
• Consider hiring full-service movers.
Although there might be slightly higher costs involved, those who would like to have a hassle-free move can definitely hire full-service movers. These companies offer everything from packing your things, moving the boxes to unpacking your things - so that you can make the transition from one home to another quite easily.
• Give yourself plenty of time to organize your things prior to the actual move date.
Whether you decide to hire a full-service mover or do the packing yourself, what's important is to organize your things as soon as you learn when the move date is. Start sorting your clothes, kitchen utensils and home furnishings into a pile of items that need to be moved, thrown away, donated or sold in a garage sale. This way, you will only bring with you the most important things needed to start a new life in your new house.
• Make sure that you are hiring a reliable removals company.
More importantly, check on the reliability of the removals company that you are hiring. Check on the number of years that they've been in the business, ask for referrals and make sure that there are no hidden costs which they can surprise you with after the move.
MORE NEWS AND TIPS