How to Lessen Your Stress When You Move
Published on Friday, 19 February 2010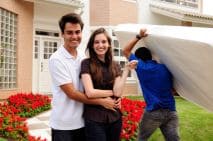 Moving is really a very stressful event. You need to take care of everything in order to have a smooth move. However, you can prevent your move to become a horrifying memory. Here are some tips on how to lessen your stress and somehow enjoy your move.
It is really hard to start packing when you already have the schedule of your move day. By just merely looking at all the things that you need to pack will make you feel tired already. However, you need to remember that you will still have to pack your things, whether you like it or not. Do not delay your packing schedule. Start packing as early as six months from your move day. This way, you will not be stressed out with your packing.
In order to move lightly, it is better to get rid of all the items that you do not use. The trick here is to get rid all the things that you have not used or touch for the last 6 months. Get rid of all your things that are broken, and you were planning to fix. You need to accept that fact that you will never make it to the repair shop, so you might as well get rid of them to lessen your agony in packing.
Sometimes, it is worth the cost of hiring a moving company. You can still hire a moving company, even if you are on a tight budget. Get rid of all the items that you do not need and put them on garage sale. You will be surprised on how much your clutter and junk costs. It could help you with your other expenses.
You can pack your own items and just hiring a moving company who will load, move your item to your new place, and unload them. This could be better than agonizing yourself to drive back and fort and loading and unloading all your things.
It is also better to get rid of your big furniture like your big sofa, bookshelves, etc. by selling them before you move. You can buy new set when you reach your new home. This will give you a sense of excitement to move and start your life with something new in your new home.
MORE NEWS AND TIPS