Steps to Follow in Packing for Your Move
Published on Sunday, 22 November 2009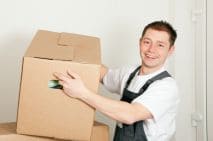 Say you've just been transferred to your new office and you have to be there in six weeks. There's no reason to panic. You still have enough time to prepare if you act now.
Assess, Sort and Make an Inventory
Make an inventory of the things you will bring to your new home. This will ensure that you will be able pack everything for the move. And this also makes checking easier for you as things are unloaded.
Holding a garage sale would be a good idea. You can also donate the other stuff. The important thing is to minimize the stuff to pack and to bring to lessen moving expenses.
You can now decide whether you need to hire a removals company or not. You can use your inventory in getting quotes for the removals and for the packing. From there you can assess whether you can afford getting packing services or not.
Get Enough Packing Materials
If you decide to pack some or all of your things, you have to get sufficient packing materials ready before you begin. Since you know how much you need to pack, you should be able to estimate how many boxes and packing materials you need. It's also important that you get appropriate type of boxes for different types of items.
Label the Boxes
Labels will help you and the movers unload your things and place each box where they're supposed to go to. With the list of contents there, you will also know where to find your things. Number the boxes to know which one to unpack first.
And lastly, pack toiletries, food and other essentials to make your travel and your first days in your new home pleasant and stress free.
MORE NEWS AND TIPS