Tips and Tricks in Loading Moving Trucks
Published on Monday, 27 September 2010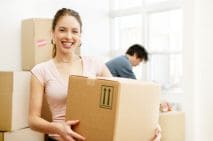 Loading boxes into moving truck rentals is easier said than done. This task involves certain steps that can add more headaches if not done the right way. Employing moving companies can be a great relief but if you can't afford hiring the services of the pros, you must learn the proper techniques of efficient loading.
The way to pack up moving trucks largely depends on how many boxes and pieces of furniture you own. When loading trucks, you want treat everything is if it were a puzzle wherein each item has to set in perfectly inside.
When loading trucks, be sure that the large and heavy items are at the bottom part. Boxes with fragile items should never be placed in areas where they can potentially get damaged. The only boxes that can be situated at the bottom part are the boxes with stable and non-breakable stuff. Light boxes should be placed at the top to keep them from being crushed.
Furniture is perhaps that easiest to pack as they are generally non-fragile. To keep it from scratches, dents or cracks, you need to cover their entire body with moving blankets or sheets of paper. Furniture blankets can either be purchased or hired from certain moving companies.
MORE NEWS AND TIPS