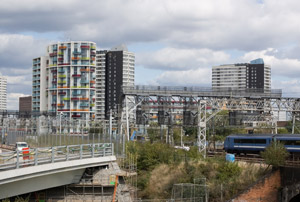 Book Cheap Man and Van Service in East London Today
London is one of the most well known and loved places in the world. People are familiar with all its sights and history and would love to live there. For some people, they want to make that dream come true and are prepared to move into or around London to make it happen. You may be excited about your potential move, just thinking about all the new things to do and see, all the people you will meet and the brand new home you'll live in. However, things can turn sour when you consider all the work you have to do for your move.

You have to organise all your belongings, obtain the proper materials, use them to pack up all your things and put them in suitable containers, get large items and furniture out of your house and load everything on to transport you have to arrange, then you have to do the process in reverse by putting everything in your new home. To do all this is difficult, time-consuming and if not done properly, unsafe. You can soon find your dreams starting to fade away but Man and Van can keep your hope alive.

Call us now on 020 3743 9354 and you will discover that we are a top rate removals firm who specialise in making our clients' moves simple and pleasant. We can take care of you each and every step of the way because we can do everything that your move requires. Do you need boxes and wrapping? We can provide it. Do you need someone to pack up all your things within a couple of days? We can do it. Do you need people who can expertly and carefully remove your furniture from you home? We have the know-how. Do you need vehicles to transport your goods? We have a wide range of vans and lorries that can carry any of your belongings. Do you need temporary storage for any number of your possessions? We have secure depots that you are free to use. With a quick call, we can find out what you want and provide a free, no-obligation quote.

If you are only just considering your move into North East London then you should know about the wonderful region you have chosen to make your new home. In 2008, the newly revised London Plan split the region into five sub-regions: North East, North, South East, South West and West. The areas that make North East London are Newham, Barking & Dagenham, Redbridge, Havering, Tower Hamlets, Waltham Forest and the main City of London. Its total population is 1.4 million people with 900,000 people working here. The postal codes of the area are E1W, E1-E18, E20, E77, and E98.

There are two metropolitan centres in North East London – Romford and Ilford, but there are also other major centres in Barking, East Ham, Canary Wharf, Stratford and Walthamstow. The region is undergoing much regeneration, specifically at Lower Lea Valley, Canary Wharf, the City Fringe, Stratford, Ilford, the Royal docks and London Riverside. North East London is expected to become a real hotspot because of the 2012 Summer Olympic and Paralympic games.

Despite the increase of interest, there are still many affordable places to live such as Dulwich, Crystal Palace, Brixton, Clapton, Hackney, Bethnal Green, Walthamstow, South Woodford and Leystone. Whitechapel, Isle of Dogs and Docklands are more expensive but worth it if you want to treat yourself.

There is much to do and to see in North East London. There is the Whitechapel Gallery which exhibits both contemporary pieces as well as classic retrospectives and has featured Picasso's Guernica and other famous works. There are plenty of theatres including Queen's Theatre Hornchurch, Stratford Circus and Theatre Royal Stratford East, which is home to the Theatre Workshop company. There are plenty of museums to visit too, such as Ragged School Museum, the V&A Museum of Childhood, Upminster Windmill, the museum of London Docklands and William Morris Gallery.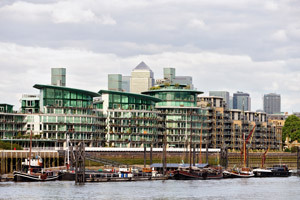 If you like shopping then there are several markets that should peak your interest including Billingsgate Fish Market, which is the largest fish market in the world, and the popular Columbia Road Flower Market is here but only open on Sundays. New Spitalfields Market is Europe's leading horticultural market and the Brick Lane Market is open every Sunday and all sorts of bric-a-brac can be found.
Sport is a major part of the area. Apart from the Olympics, Boleyn Ground, better known as Upton Park, is the stadium of Premier League team West Ham United. Whatever sport you're interested in then you should be in luck thanks to varied venues such as the Redbridge Cycling Centre, Romford Ice Arena, Romford Greyhound Stadium and Brisbane Road. If you're the outdoors type then there are also many open spaces, including Barking Abbey, Lower Lea Valley, Lee Valley Park, Wanstead Park, the famous Epping Forrest and Victoria Park London that holds several festivals throughout the year. Other places worth seeing are ExCeL London which hosts various events, the Thames Barrier, skyscrapers Pioneer Point, Dagenham Wind Farm and Canary Wharf.
Some of the more notable former and present residents of East London are England's World Cup Winning manager Alf Ramsey, players Bobby Moore and Martin Peters, modern-day legend David Beckham, player-turned-manager Terry Venables, striker Teddy Sheringham, multiple world snooker champion Ronnie O'Sullivan, and Chelsea F. player John Terry.
Musicians include Billy Bragg, Max Bygraves, Def Leppard frontman Phil Collen, U2 guitarist David "The Edge" Evans, heavy metal band Iron Maiden, pop band East 17 and singer Vera Lynn. People who have been involved in film and television include Dudley Moore, master of suspense Sir Alfred Hitchcock and comedic actors Tony Robinson, Alan Davies and Nick Frost. Other notable people include presenter Jonathan Ross, artist William Morris and iPod and iPhone pioneer Jonathan Ive.


Call Man and Van today on 020 3743 9354 and we can keep your dream of an East London move alive and well
.